Get news from the Press about new books, deals, giveaways, things we like, guest author takeovers and more! We have a gift for you!
Sign up for our email news and receive your choice of gift! Click on your choice below: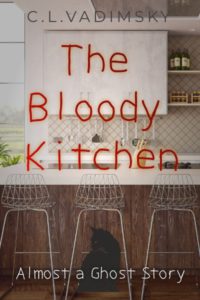 Get this short story The Bloody Kitchen – Almost a Ghost Story, by C.L. Vadimsky. Another short, true tale from a collector of tales, The Bloody Kitchen tells of one terrible summer vacation day in the life of a pretty chill mom, and her family of indeterminate size.
Or for fans of June Seas, get this short story, Walkers, a dreamy short original tale for middle grades and grownups who remember. Brandi and Troy take a shortcut through the woods walking home from school. Is the old woman they meet a witch?
Just sign up for our occasional email newsletter. We never sell or share your information. Our privacy policies are available here.
You can also communicate with us and other fans by joining our Facebook Group, My Family Reads
If you would like to communicate with us or one of our authors, Email: seasjune@gmail.com